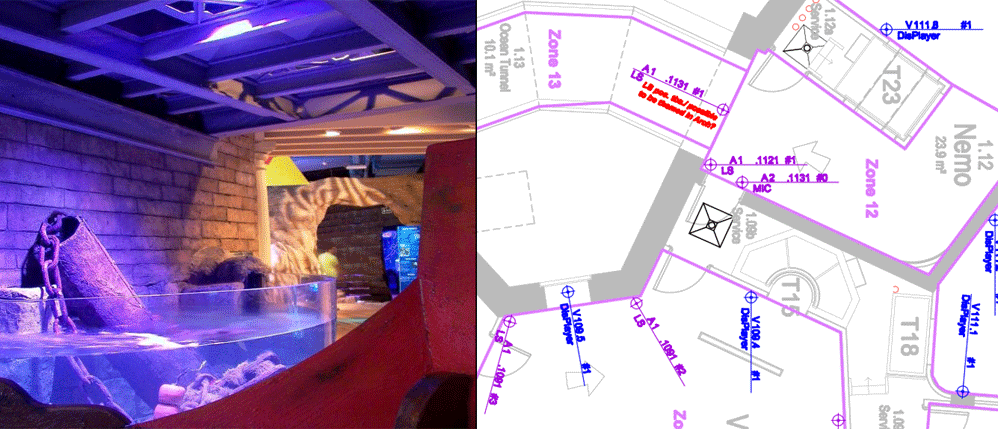 We see ourselves as the interface between content conceptioners, designers, you as the client and the operator on site.
Our designers, who are experienced in the theater and show production, pay attention to the perfect technical implementation of the storyboard and support you already in the conception phase.
We dare to go unusual ways with you to make your ideas come true.
A reliable, low-maintenance installation starts with the planning. Our technical concepts are not only designed to create the best possible experience for every visitor, but also to meet all aspects of maintenance, upkeep and financial expenditure.
Our focus is on the conception and planning of:
Projection and video systems
Lighting, LED mapping
special effects
Show control systems
Interactive applications
Audio / video / lighting designs
Strict standards for the installation and wiring of the devices we have developed for you and complete documentation of your installation are our understanding of quality in execution.
Our special and good relationships with the manufacturers of the products used and the permanent training of our employees give you the security you need for the daily handling of our installations.
We are proud that our systems are among the lowest maintenance in the industry.
Bringing a show to life requires the expertise and experience accumulated over decades.
Our programmers combine not only this knowledge but also the enthusiasm for storytelling and the artistic design of their stories and spaces.
Our designers and programmers have a precise idea of how the show should sound, hear and look. This is the reason why our clients trust our judgement when it comes to showing quality and evoking emotion.
A successful installation doesn't end on opening day. We help operators establish the processes and train their teams in the most effective way to operate and maintain their attractions to the maximum. We do this on site or also in our training rooms in Wuppertal (Germany).
Pixel resolution, frame rate, file format, aspect ratio, playback synchronisation…
We support you in media production in the coordination between music and video studios and our technicians.
You don't have a content producer yet? Then you can also get the media content and interactions from us.
We work with internationally experienced producers.