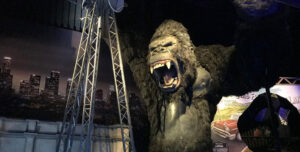 Movie Park Studio Tour
The Movie Park Studio Tour at the Bottrop Movie Park was also voted as one of the best roller coasters of 2021. This is the second award-winning project that we were able to realise together with P&P Projects.
Over 50 media feeds and an elaborate light and audio installation make this indoor multidimensional coaster a special experience that transports visitors into the exciting world of film production.
Leisure Expert Group and P&P Projects – Theme Design
Intamin – Ride System
P&P Projects – Theming
Bentin Projects – AV technology and show control
P&P Projects – Animatronics
IMAscore – Ride Music
IMAmotion – Video Content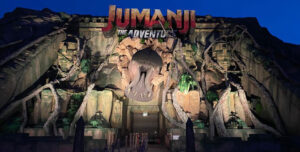 Jumanji – The Adventure
On 9 April 2022, the world's first attraction based on the Jumanji film series by SONY Pictures Entertainment opened at the Italian theme park Gardaland.
Guests drive through twelve immersive scenes in jeep-shaped Moltimotion vehicles from Oceanieering. The story is told through a mix of real sets, animatronics and screen-based media content.
The lighting design and technical planning and implementation of the elaborate lighting, audio and video technology and the programming of the show control was realised by Bentin Projects.
It was a pleasure to realise this highly acclaimed project in the top-class international team together with Framestore (content), Oceaneering (vehicles and ride), Futura Form (set construction) under the creative direction of the design team of Merlin Entertainment.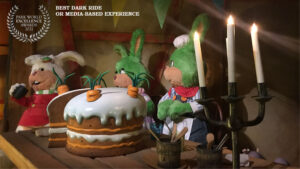 Underlandet – The Award winning Darkride
With Underland, the Gothenburg amusement park Liseberg opened the doors to the magical underground world of rabbits, which are a trademark of the park.
In cooperation with P & P Production, one of the big set construction companies, we were allowed to plan and install the complete technical equipment for light, sound, video and media control.
We are very happy that this ride was awarded with the European Star Award and the Park World Excelence Award as Best Darkride 2021.
Liseberg and Quarry Fold Studio – Attraction Concept & Themed Land
Gosetto – Ride System
P&P Projects – Theming
Bentin Projects – AV technology and show control
Lifeformations – Animatronics
IMAscore – Ride Music
Legoland Discovery Center Brüssel opening
On 24 June, the Legoland Discovery Center Brussels opened its doors to visitors. This new attraction from Merlin Entertainments is the 2.0 version of its previous Legoland Discovery Center. Many new interactive play stations make this attraction a highlight in the Brussels Docks shopping centre.